Version 0.7.4 Coming soon
---
Since version 0.7.3 was released several bugs have come to light. On the CPC I'd managed to break the assembler output so it wouldn't build with SjAsmPlus or WinAPE. Collectable blocks weren't working and CLS was always using colour 0 instead of the current PAPER colour. On the Timex TC2048 and Next versions the CLW (clear window) command wasn't clearing the attributes. These issues have now been addressed.
In other news there's now a third font, an "about" option in the help menu and fixes to the Enterprise palette code. The BBC has been added as Kees van Oss is making progress with an engine and compiler for the 1.5 million-selling Acorn machine.
The demonstration game, Diamond Geezer, has a fifth level that makes use of collectable blocks. The player has to collect a key before he/she can open a door to pick up the last diamond.
You may also notice the AGD diamond logo in the top left corner of the window below; just a tiny cosmetic addition.
There will be an update soon. I'm also planning to record one or two more YouTube videos over Easter if I get the chance. Meanwhile, keep playing with the tool and let me know if you find any bugs!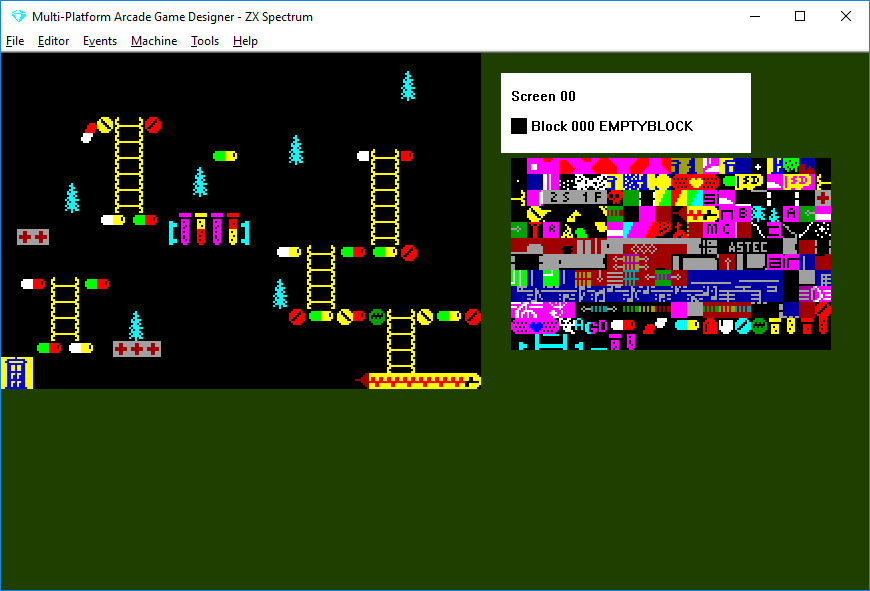 Get Multi-Platform Arcade Game Designer